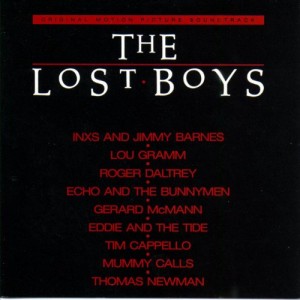 [This is from Lost In The Shadows, but I have taken the picture of the CD for use on here]
The soundtrack listing is as follows. It's available on Atlantic Records. Since I get so many emails about this, I'm going to try and hunt down the Lyrics for these songs. I've also added where in the film each song is played because I also get a lot of mail asking "what's the song called that's playing when such-and-such happens?"
I'm going to say this once, but I'm going to say it clearly: I will not email you a copy of any of the songs. Stop being cheap. Buy the soundtrack yourself. I've had to buy quite a few copies, thanks to people "borrowing" and never returning it. I have never paid more than £12 for the CD. You can probably get it off iTunes for less than $10.  And if you're too cheap to buy every song, I have added 30 second clips of each song, so you know exactly which one you want!
Click on the track name for a sample, or lyrics for… y'know, lyrics!
01 – INXS & Jimmy Barnes – Good Times [Lyrics]
Played when Michael goes to the Boardwalk seaching for Star. When he buys that leather jacket and considers getting his ear pierced.
02 – Lou Gramm – Lost In The Shadows (The Lost Boys) [Lyrics]
When David challenges Michael to "keep up" with the Lost Boys.
03 – Roger Daltrey – Don't Let The Sun Go Down On Me [Lyrics]
End of the film, not used during.
04 – INXS & Jimmy Barnes – Laying Down The Law [Lyrics]
Some time on the Boardwalk, I think it's when Sam meets the Frogs for the first time – Cave family, correct me if I'm wrong!
05 – Echo And The Bunnymen – People Are Strange [Lyrics]
The intro scene (oh, like you didn't know, it's a classic, or a cover of one)
06 – Gerard McMann – Cry Little Sister (Theme From The Lost Boys) [Lyrics]
YES! This is the 'Thou shalt not…' song, the one when Michael is drinking the 'wine'.
07 – Eddie And The Tide – Power Play [Lyrics]
When Lucy meets Max for the first time in the Video store and the Lost Boys (most notably Paul) are oggling Maria who works there.
08 – Tim Cappello – I Still Believe [Lyrics]
Yep, this is the sweaty guy with the chains around his neck singing at the open air concert when Michael sees Star for the first time. Does anyone else think he looks a bit like Shawn Michaels?
09 – Mummy Calls – Beauty Has Her Way [Lyrics]
Playing in the background when Star's dodging Michael.
10 – Thomas Newman – To The Shock Of Miss Louise
The carousel music, played constantly, most notably in the intro when David and the Boys take on the Surf Nazis.
Also played, but not on the soundtrack is "Walk This Way" by Run DMC/Aerosmith
When the Lost Boys kill the Surf Nazis at the bonfire and Michael freaks out. (what a wimp)