Real name:
Jessica
Member Since:
30 Jul 2009
Bio:
My name is Jessica but usually people call me Jessi. I am in love with a bunc of horror, Drama,nd Comedy movies. My top five (and this i not in order) are The Lost boys, Stand by me, Lost and Delirious, Bad Santa, and X-men 2. There are many others but of course i cant name them all because I'm sure you have better things to do then read the movies I like. My Personality is very carefree, fu, relaxing, andtroule seems to be my shadow, even if its dark outside.
[
Report This
]
Stories by queenbrooklyn67
Rose Emerson wasn't a perect teenage but was a perfect trouble-maker and certain boys with similar reputations notice. Will Rose accept there life-style or will she finally do a good thing for her family?
Warnings- Spoilers for anyone who hasnt seen the movie, mild feeme slash, drug use, and mild violence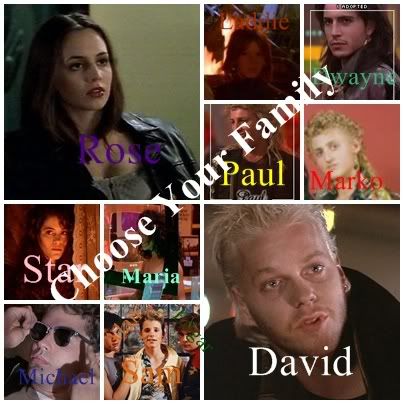 [
Lost Boys
,
David
,
Dwayne
,
Laddie
,
Lucy Emerson
,
Marko
,
Paul
,
Star
]
David
,
Dwayne
,
Grandpa
,
Laddie
,
Lucy Emerson
,
Marko
,
Max
,
Michael Emerson
,
OC: Female
,
Paul
,
Sam Emerson
,
Star
Genres:
Drama
,
General
,
Romance
Pairing(s):
David/Original Character
,
Michael/Star
,
Star/Original Character
Warnings:
Drug Use
,
Femme Slash (female/female pairings)
,
Mild Violence
Series:
None
R • Completed: Yes • 20 chapter(s) • Published: 31 Jul 2009 • Updated: 05 Aug 2010 • Word Count: 28806 • Read Count: 29849 • Reviews: 19 • [Report This]
---
21 years have past since the events of "Choose Your Family" Now Rose is back with only one thing on her mind, Revenge.
[
Lost Boys
,
David
]
Alan Frog
,
David
,
Edgar Frog
,
Grandpa
,
Lucy Emerson
,
Maria
,
Michael Emerson
,
OC: Female
,
Sam Emerson
,
Widow Jonhson
Genres:
Angst
,
Character Reflection
,
Drama
,
Horror
,
Suspense
Pairing(s):
David/Original Character
,
Lucy/Max
,
Michael/Star
Warnings:
Adult Themes
,
Character Death
,
Domestic Violence
,
Other potentially disturbing content
Series:
None
PG-13 • Completed: No • 2 chapter(s) • Published: 20 Nov 2010 • Updated: 20 Nov 2010 • Word Count: 3630 • Read Count: 3851 • Reviews: 1 • [Report This]
---